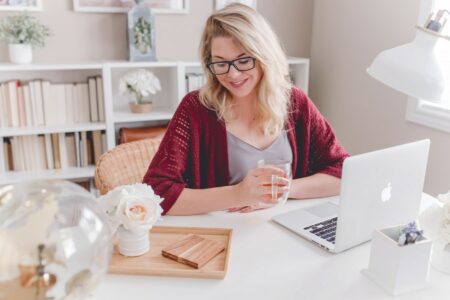 Engaged with Remote Employees. 
Offering the option to work from home or remotely is becoming more and more common with companies across the nation. As someone who works remotely, alongside 3.9 million Americans (according to Smallbiz). I have seen an increase in this option since joining the Staffing Industry. Working remotely can certainly have its advantages. One of the main advantages is the lack of commute. Employees can spend a significant amount of time traveling to and from work, so easing this burden allows them to jump right into their day. It can also provide much needed flexibility during the work day. This is especially useful for appointments, childcare, after hours events, etc. Eliminating the stress of trying to time it all perfectly, can allow workers to be move productive and efficient with their time.
However, working remotely can have its drawbacks. Remote employees can feel excluded and invisible to their employer. There are no donuts in the breakroom, I personally miss this treat and no face to face interaction with your coworkers daily. When working with a relatively remote workforce it is key to help our employees feel engaged and part of the organization. Our organization has found that the following items help keep our remote employees feeling like part of the team.
Communication is key– Open communication with remote employees helps them feel connected and informed about what is going on in our organization. Our managers currently host weekly one on ones with their employees to discuss expectations, workload, etc. In addition, we host bi weekly team calls and leadership calls.
Acknowledging Good Work– Recognizing the work remote employees do helps them feel less invisible. It can also keep current onsite employees from forgetting their existence. As an organization we have "shout outs" on our monthly company calls where we can recognize these accomplishments as a group. We also send birthday and anniversary announcements where we highlight what each employee has accomplished.
Getting to know Employees– Our organization has developed a remote social committee to help keep our remote workers more engaged. As an example, for the 4thof July, everyone was asked to submit a photo of how they spent their holiday. It was fun to see how other employees spent their day. One employee that spent the day relaxing with their dogs, another went to the beach and other attended a barbecue. Did I mention one employee lives in North Carolina, one lives in Ohio and the other is in California? Periodically we send out small gifts and swag to coordinate with our events and occasionally send out employee highlight emails to the team to let people talk a little about themselves.
Goal Setting– Remote employees typically need to be capable of working very independently and be self-starting. Having clear expectations on what you need from them and how the projects will impact the team helps them keep a clear vision on what they are doing.
Having a remote workforce and be challenging. However, following the above has given our organization a lot of success.
For more tips, click here.